In 1996 Stina Nordenstam directed the video for a Swedish rock band Souls` single "Expensive". The video is 80ties themed. The band was not too happy about the video for their lead single of the long player "Bird Fish or Inbetween". The second single from the album, "Cello (Where You Where)", did however got some MTV play. The band did also toured USA with Bush in 1997, but broke up later that year.
From an 1996 interview by Dick Fredholm (taken from "Ringo", a Swedish GŲteborg-based music-zine). Read the full interview here (in Swedish):

- How did you get in touch with Stina?
Johan: Let her burn in hell!
Cecilia: But, keep your mouth shut, to say something like that about her...
- Why?
Johan: I like her, she is very nice, but she cannot make videos
Cecilia: I do not think it is that f***ing bad. It`s the 80ties. It is not brilliant, but it is a video. It does not tell much. We are on the same label [Telegram Records], it`s probably why. - It is fashionable to use pop directors.
Johan: But we are f***ing afraid of things like that, that we will be overun by them [the record label executives]

Discography:



Tjichischtsiy (SudÍk) (album) 1994, produced by Steve Albini
Expensive (four track single) 1996
Bird Fish or Inbetween (album) 1996, produced by Nille Perned (kent) review
Expensive (2 track radio promo) with edit and Danskin Remix 1996
Cello (Where You Where) (radio promo)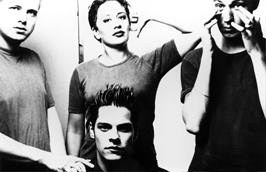 Cecilia Nordlund: vocals, guitar, organ
Johan Freiholtz: bass, treated piano, minimoog, organ
Andreas Grevsten-Danielsson: guitar, minimoog, vibraphone, teeth, organ, elephant toy, Simmons programming
Lars-Erik Grimelund: drums, crash.

lyrics to Expensive sound clip of Expensive